Posted on
By Medteam Weight Loss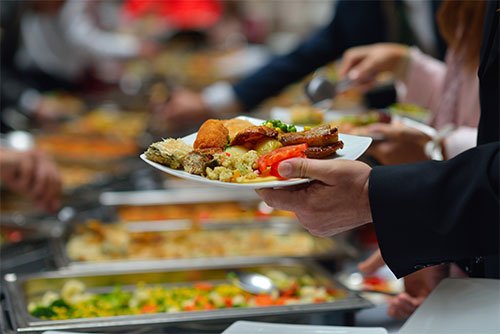 Overeating and eating out go together like bread and butter, cheese and crackers… you get the point. However, there are some things you can do to resist the temptation. The obvious one is to not go out to eat, but we all know that is not going to happen - though you can limit the number of times you go out per week or month. Now that you have that number, here are some things you can do to prevent overeating each of those times you do go out
Overeating and eating out go together like bread and butter, cheese and crackers… you get the point. However, there are some things you can do to resist the temptation. The obvious one is to not go out to eat, but we all know that is not going to happen - though you can limit the number of times you go out per week or month. Now that you have that number, here are some things you can do to prevent overeating each of those times you do go out:
Order an appetizer as your main entrée
One of the problems with eating out is portion control. We have all been taught to "clean our plates" and most of us feel guilty about leaving food that ultimately goes to waste. By ordering an appetizer, the portion is usually smaller and you can eat the whole thing. One caution though … you have to watch what you order as many appetizers are deep fried and can be worse for you than if you had ordered a main entrée and only eaten half.
Eat a light snack before you go out
While this may sound counter-intuitive on the surface, it does have merit. By eating something (healthy) before you go out, you'll be less hungry when you order off of the menu. Stop eating when your brain signals that your stomach is full!
Drink water before your meal
At most restaurants, they take your beverage order before taking your meal order. Order water and drink a full glass of it before your meal comes and more with your meal. Not only will it fill you up so you will want to eat less, but it will help you digest your food more easily along with keeping you hydrated.
Only eat half of your meal
Depending on your will power, this one can be difficult to do. One tactic is to have your waiter put half of your meal in a box before bringing it to your table. That way you won't be tempted to eat more of it than you should.
The other tactic more health-conscious people are starting to use is to split a meal. When ordering, ask the waiter to bring an extra plate as the two of you are sharing a meal. Many places will offer to split the meal before bringing it out.
It is fun to eat out, but it can be a calorie and saturated fat minefield if you don't order smart and listen to your body. These tips can help you maintain control when eating out.
Need more information on weight loss? Contact us today.